Mensa UniCampus Magdeburg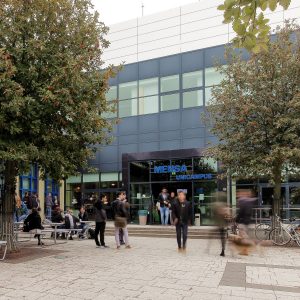 Hohepfortester. 25
39106 Magdeburg
[Location Map & Infos UniCampus]
The canteen is located directly on the university campus, in the immediate vicinity of the library and the university data center. We offer 635 seats in two dining rooms.
For hygienic reasons, only contactless payment is possible. Therefore, no cash is accepted at the cash points. Please use the provided machines to recharge your chipcard.
Opening hours
During the lecture period
Dining hall downstairs
Mon. – Fri. 10:45 a.m. – 2:00 p.m.
Dining hall upstairs
closed until further notice
Café Latte in the foyer
from 05.10.2020: Mon. – Fri. 09:00 a.m. – 02:30 p.m.
Outside lecture time
Dining hall downstairs
Mon. – Fri. 10:45 a.m. – 2:00 p.m.
Dining hall upstairs
– – –
Café Latte in the foyer
until 02.10.2020: Mon. – Fri. 10:30 a.m. – 02:00 p.m.
Die Mensa ist am 01.11.2020 geschlossen und öffnet wieder am 02.11.2020:
Montag / Monday, 02.11.2020
Paniertes Schollenfilet mit Kräutersoße


ried tilapia filet with herb sauce


1,90 | 3,00 | 4,00

(a1)

Schweinesteak Cipolla im Röstzwiebel-Backmantel


pork steak cipolla baked in roast-onion puff pastry


1,60 | 2,70 | 3,70

(a1)

Süßkartoffelgnocchi mit Räuchertofu, Kürbis, Rucola und geschmolzenen Tomaten




Sweet potato gnocchi with smoked tofu, pumpkin, rocket and melted tomatoes


2,80 | 4,50 | 5,90

(5) (a1) (f) (l)

4 American Pancakes mit Sauerkirschen




4 american pancakes with sour cherries


1,80 | 3,50 | 4,90

(a1) (c) (g)

Buddha Bowl - Teriyaki Chicken, Glasnudeln, Erdnussdip, Chinakohl, Sprossen, Ananas u. Sesam


Buddha Bowl - teriyaki chicken, glass noodles, peanut dip, Chinese cabbage, sprouts,


3,10 | 4,80 | 6,20

(2) (9) (a1) (c) (e) (f) (g) (k) (l)

Beilagen: Möhren-Zucchini-Pastinakengemüse, Schwarzwurzeln, Salzkartoffeln, Pommes Frites, Langkornreis, Bratkartoffeln


Sides: carrot-zucchini-parsnip vegetables, black salsify, boiled potatoes, French fries, long grain rice, fried potatoes



Diese Mensa hat aufgrund der aktuellen Pandemielage derzeit geschlossen. / This canteen is currently closed due to the current pandemic situation.