Mensa UniCampus Magdeburg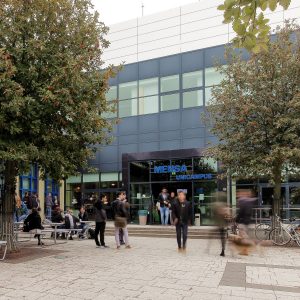 Hohepfortester. 25
39106 Magdeburg
[Location Map & Infos UniCampus]
The canteen is located directly on the university campus, in the immediate vicinity of the library and the university data center. We offer 635 seats in two dining rooms.
For hygienic reasons, only contactless payment is possible. Therefore, no cash is accepted at the cash points. Please use the provided machines to recharge your chipcard.
Opening hours
During the lecture period
Dining hall downstairs
Mon – Fri: 10:45 am – 2:00 pm
Dining hall upstairs
Mon – Fri: 10:45 am – 2:00 pm
Café Latte in the foyer
Mon – Fri: 07:30 am – 2:30 pm
Outside lecture time
Dining hall downstairs
Mon – Fri: 10:45 am – 1:30 pm
Dining hall upstairs
closed
Café Latte in the foyer
closed
Die Mensa ist am 02.07.2022 geschlossen und öffnet wieder am 04.07.2022:
Montag / Monday, 04.07.2022

Kichererbsenbällchen mit orientalischem Gemüsedip dazu eine Gemüsebeilage und eine Sättigungsbeilage zur Auswahl




Falafel oriental vegetable dip additional one vegetable side dish and one starch side dish for selection


2,50 | 4,20 | 5,60

(3) (5) (9) (a1) (f) (j) (l)

Königsberger Klopse vom Kalb mit Kapernsoße , Salzkartoffeln und Gurkensalat


Königsberger veal meatballs with caper sauce , boiled potatoes and cucumber salad


3,10 | 4,80 | 6,20

(a1) (c) (g) (j)

Sojageschnetzeltes Kantonesische Art mit grünen Bohnen, Paprika, Lauchzwiebeln, Sprossen und geröstetem Sesam dazu Langkornreis




Soy Slices Cantonese style with green beans, peppers, spring onions, sprouts and roasted sesame seeds additional long grain rice


2,50 | 4,20 | 5,60

(2) (5) (9) (a1) (f) (k) (l)

3 Hefeklöße mit heißen Heidelbeeren und Vanillesoße




3 yeast dumplings with hot blueberries and vanille sauce


1,80 | 3,50 | 4,90

(1) (a1) (c) (g)

Der heutige Lieblingskuchen vom Mensa-Team: Fruchtiger Mandarinen-Quark-Kuchen vom Blech




Today's favorite cake of the Mensa team: Fruity tangerine curd cake from the baking sheet


1,50 | 1,80 | 2,10

(1) (a1) (c) (g)

Beilagen: Geschmorter Chinakohl (2, a1, f, k), Möhren-Erbsen-Maisgemüse, Salzkartoffeln, Zartweizen (a1), Langkornreis


Sides: creamed savoy cabbage (2, a1, f, k), carrot-pea-corn mix, boiled potatoes, tender wheat (a1), long grain rice



Diese Mensa hat aufgrund der aktuellen Pandemielage derzeit geschlossen. / This canteen is currently closed due to the current pandemic situation.