Mensa Kellercafé Zschokkestraße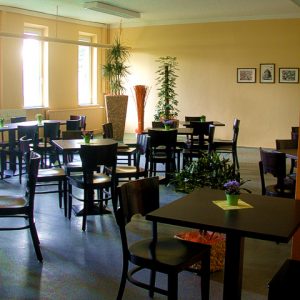 Building 40, Zschokkestraße 32
39104 Magdeburg
[Location map & info Campus Zschokkestrasse]
The basement café with approx. 80 seats is located in the teaching building 40 on the extended Uni Campus at Zschokkestraße 32. In addition to the classics such as sandwiches, baguettes and hot snacks, you can choose from a rich breakfast, a lunch table with three different dishes and a salad buffet. The offer is rounded off, as it should be for a café, by a variety of coffee specialties. The drinking chocolate and the coffee are fair traded and organic certified.
Opening hours:
During the lecture period
 
Mon – Fri: 08:00 am – 3:00 pm
 Outside lecture period
 
closed
Diese Mensa ist derzeit geschlossen. / This canteen is currently closed.