BAföG – Submitting an application is worthwhile!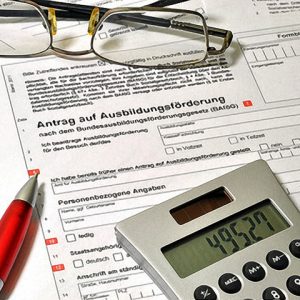 In accordance with the law, students with German citizenship have a legal claim to BAföG if the eligibility requirements are fulfilled. Depending on the residence permit, foreign students also can receive education grants.
One half of BAföG is given as a government subsidy and the other half is given as an interest-free loan that can be repaid under very favourable terms. A grant can only be given beginning from the month you apply (from the start of your studies at the earliest, of course), which is determined by the incoming mail stamp. You need not wait until you have all the documents together – the lacking documentation may be submitted later. We require some processing time from the point of application until the first payment. Therefore, please submit your application as early as possible!
It is always worthwhile submitting an application to BAföG, even if the current maximum monthly payment of 735.00 EUR can not be reached. Submitting an application is easier and faster than one may expect. Application forms and filling instructions can be found online here or obtained from the information bureau of the Office for Educational Support (room 320). Our staff are more than happy to assist you with the application and consult you in all questions around student financing.
Please note that the official language of BAföG applications is German. For this reason, the application forms and information in our BAföG ABC are available in German only.