About Us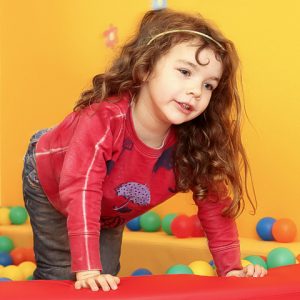 The rooms in the CampusKids centre for children are brightly, colourfully and cheerfully decorated. Being only a sketch on paper a few months ago, the project now takes more and more shape. Beginning from September 2012, the Studentenwerk Magdeburg opens a centre for children on the ground floor of the student hall No. 7. The entrance is from the enclosed garden area at the back of the building in Nathusius-Ring 5. 70 children will be cared for here in three to four groups by an eight-person team of nursery teachers. The CampusKids daycare work is integrative, children from the age of eight weeks to preschool age can be enrolled.
Campus children are supplied completely in the daycare centre, a cook is strengthening the team of the Canteen UniCampus specifically for the daycare centre and ensures that the menu is particularly varied and healthy.
The daycare centre is open from 7:00 a.m. to 7:00 p.m., extra care periods may be realised through the Campus Child Care flexible nursing. Both approaches complement each other: the regular nursing of children by the daycare and flexible nursing during off-hours.
This part of page is currently not available in English. / Dieser Teil der Seite ist derzeit nicht auf English verfügbar.
Regelmäßige Angebote
Wöchentlicher Besuch der Sauna und der großen Sporthalle in der Universität der Kindergartenkinder
Nutzung unterschiedlicher Angebote der Kreativwerkstatt wie Töpfern, Fotografieren, Textile Gestaltung, Nähen, Malerei
Regelmässiges gemeinsames Kochen und Backen von Eltern, Kindern, Erziehern in der Kinderküche
Kinder-Eltern-Brunch
Fahrrad-Tour zu besonderen Plätzen unserer Stadt
"Du & Ich – Tag" : Kindergarten- und Krippenkinder unternehmen gemeinsam etwas, spielen und lernen miteinander
regelmäßig stattfindende Entwicklungsgespräche
gruppenübergreifende Angebote
Tagesablauf
07.00 – Öffnung der Kita, individuelle Angebote, Spiel der Kinder
08.00 – gemeinsames Frühstück in den einzelnen Gruppen
09.00 – offene Lernphase, individuelle Angebote, Projekte sowie Spiel in den Gruppen und Aufenthalt im Freien
11.00 – Einnahme des Mittagessens
12.00 – Ruhephase entsprechend den individuellen Bedürfnissen der Kinder
14.30 – Einnahme des Vesper
15.00 – individuelle Angebote, Spiel in den Gruppen und auf dem Freigelände
17.00 – Schließung der Kita