Welcome to the Studentenwerk Magdeburg…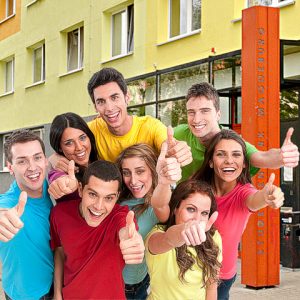 … Your partner in everything all around studies! We will guide you through life on campus at the study sites of Magdeburg, Stendal, Wernigerode and Halberstadt.
Whether it is dining in our canteens and cafeterias, a home in our student halls, advice & forms for financing your studies, help with stress and problems, promotion of student cultural projects or taking care of your children – we are glad to be at the disposal of all students and staff members!
Latest News in German:
Halberstadt, Magdeburg, Stendal, Wernigerode: Glück, Geborgenheit und gute Laune – für all das steht die Soul-Food-Küche aus den Südstaaten der USA. "Ursprünglich begann Soul Food damit, dass Mütter und Großmütter für ihre Familien kochten. Mit dem Duft und dem besonderem Geschmack Ihrer Gerichte zeigten … Continue reading
Mensen & Cafeterien | 5. July 2019
Halberstadt, Magdeburg, Stendal, Wernigerode: Die Rechtsberatung für Studierende am Studienort Magdeburg entfällt aus innerbetrieblichen Gründen am Donnerstag, 20. Juni 2019 In dringenden Fällen von Fristenwahrung melden Sie sich bitte direkt in der Kanzlei des Anwaltes Ingo Lück in der Leibnizstraße 9 nach vorheriger telefonischer … Continue reading
Soziales | 17. June 2019
Halberstadt, Magdeburg, Stendal, Wernigerode: Griechenland ist bekannt für seine Gastfreundschaft, seine traditionelle Küche und für Essen, das mit Liebe und Leidenschaft zubereitet wird. Dies wollen wir natürlich aufgreifen und typische Gerichte aus dem Süden Europas anbieten. Gyros mit Tzatziki und Weißkrautsalat, Schweinefleischspieß Souvlaki mit … Continue reading
Mensen & Cafeterien | 14. June 2019
Halberstadt, Magdeburg, Stendal, Wernigerode: Aktionswoche vom 3. Juni  bis 7.Juni 2019 in allen Mensen des Studentenwerks Magdeburg Angeregt durch die ökosozialen Hochschultage der Magdeburger Studierenden und durch die AG Nachhaltigkeit der Hochschule Harz hat das Studentenwerk Magdeburg als sozialer Partner der Hochschulen in der … Continue reading
Allgemein | 29. May 2019
Friedensau, Halberstadt, Magdeburg, Stendal, Wernigerode: LÖCHER IM SPARstrumpf? NUTZE DEINE MÖGLICHKEITEN Wir helfen dir beim Stopfen und dich im Kosmos der Studienfinanzierung zu Recht zu finden! Rund um die grundlegenden Fragen zur Studienfinanzierung, haben wir ein interessantes Informationsangebot erstellt. Zum zweiten  Mal öffnet die Studienfinanzierungsmesse … Continue reading
Finanzierung | 29. May 2019
Nachrichten aus dem Bereich:
Allgemein
,
Wohnen
,
Finanzierung
,
Mensen & Cafeterien
,
Soziales
,
Kultur
,
Internationales
,
CampusKinderzimmer
/ vom Campus:
Magdeburg
,
Stendal
,
Wernigerode
,
Halberstadt
,
Friedensau