Welcome to the Studentenwerk Magdeburg…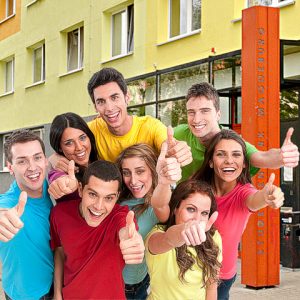 … Your partner in everything all around studies! We will guide you through life on campus at the study sites of Magdeburg, Stendal, Wernigerode and Halberstadt.
Whether it is dining in our canteens and cafeterias, a home in our student halls, advice & forms for financing your studies, help with stress and problems, promotion of student cultural projects or taking care of your children – we are glad to be at the disposal of all students and staff members!
Latest News in German:
Magdeburg: Ab dem 30.08.2016 gibt es wieder die normale Mittagsversorgung im unteren Speisesaal der Mensa UniCampus von 10:45 – 14:00 Uhr. Ihr Team der Hochschulgastronomie heißt Sie herzlich Willkommen.
Mensen & Cafeterien | 26. August 2016
Magdeburg: Unsere Umwelt, unsere Gesellschaft, jeder Mensch ist ständig im Wandel begriffen. Für Studierende ist die Auseinandersetzung mit der Zukunft besonders wichtig, denn sie befinden sich an einer Nahtstelle ihres Lebens: Jugend und Schule hinter sich lassend, auf eige­nen Füßen stehen … Continue reading
Kultur | 12. August 2016
Magdeburg: Ihr habt Lust als Wohnheimtutor/Wohnheimtutorin im kommenden Wintersemester zu arbeiten?? Dann bewerbt euch schnell beim Studentenwerk Magdeburg und seid Ansprechpartner in eurem Wohnheim. Über alle Voraussetzungen und Aufgaben eines Wohnheimtutors könnt ihr euch in der beigefügten PDF-Datei verschaffen. Wir freuen … Continue reading
Allgemein | 4. August 2016
Magdeburg: Aufgrund betrieblicher Gegebenheiten ändern sich die Sprechzeiten der Vermietung ab 25.07.2016 wie folgt: Montag: 10:00 – 12:00 Uhr Dienstag: 13:00 – 18:00 Uhr Donnerstag: 10:00 – 12:00 Uhr Wir bitten um freundliche Berücksichtigung. Die Sprechzeiten der Hausmeister bleiben hiervon unberührt.
Wohnen | 25. July 2016
Halberstadt, Magdeburg, Stendal, Wernigerode: Straßenumfrage für Kurzfilm in Berlin zeigt: Vorurteile gegenüber Studierendem weitverbreitet Fragebögen statt Stereotypen: Daten des Deutschen Studentenwerks (DSW) zeigen ein anderes Bild Aktuelle 21. Sozialerhebung zur wirtschaftlichen und sozialen Lage der Studierenden läuft noch bis Ende Juli 2016 Mehr als … Continue reading
Allgemein | 8. July 2016
Nachrichten aus dem Bereich:
Allgemein
,
Wohnen
,
Finanzierung
,
Mensen & Cafeterien
,
Soziales
,
Kultur
,
Internationales
,
CampusKinderzimmer
/ vom Campus:
Magdeburg
,
Stendal
,
Wernigerode
,
Halberstadt
,
Friedensau