Welcome to the Studentenwerk Magdeburg…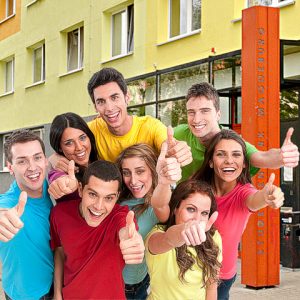 … Your partner in everything all around studies! We will guide you through life on campus at the study sites of Magdeburg, Stendal, Wernigerode and Halberstadt.
Whether it is dining in our canteens and cafeterias, a home in our student halls, advice & forms for financing your studies, help with stress and problems, promotion of student cultural projects or taking care of your children – we are glad to be at the disposal of all students and staff members!
Latest News in German:
Magdeburg: Am Montag, den 23.07. und Dienstag, den 24.07.18 finden in der Wohnheimvermietung keine Sprechzeiten statt. Donnerstag und Freitag haben wir wie gewohnt für Sie geöffnet. Alle anderen Sprechzeiten bleiben von dieser Regelung unberührt.
Wohnen | 20. July 2018
Halberstadt, Magdeburg, Stendal, Wernigerode: Die Köche der Mensen in Magdeburg, Wernigerode, Halberstadt und Stendal lassen es zur Mensa-Aktionswoche so richtig heiß werden. Unter dem Motto 'Tex-Mex' werden vom 09.07. – 13.07.18 typisch mexikanische Gerichte auf den Speiseplan gebracht. Neben Spareribs, Tex-Mex-Burger und Texas-Chicken Wings … Continue reading
Mensen & Cafeterien | 6. July 2018
Magdeburg: Die Mensa UniCampus öffnet aufgrund der Prüfungszeit an Samstagen bereits um 11.30 Uhr. Die Mittagsversorgung findet somit an den Tagen 07.07.18, 14.07.18 und 21.07.18 von 11.30 – 13.30 Uhr statt.
Mensen & Cafeterien | 5. July 2018
Magdeburg: Zum Ende des Semesters laden die musikalischen Ensembles der Otto-von-Guericke-Universität Magdeburg zu ihren traditionellen Sommerkonzerten ein. Das Akademische Orchester verabschiedet am 1. Juli 2018 in der Katholischen Universitätskirche St. Petri Magdeburg den Frühling mit der Leidenschaft musikalischer Genies wie Antonio … Continue reading
Allgemein | 21. June 2018
Magdeburg: Ab heute begrüßen wir in der Mensa Herrenkrug das Studierendenwerk Greifswald, welches uns zur Aktion Tandem besucht und viele Köstlichkeiten und Informationen rund um Mecklenburg-Vorpommern mitgebracht hat. Die Kolleginnen und Kollegen aus Greifswald kochen zur Aktion Tandem typisch regionale Gerichte … Continue reading
Mensen & Cafeterien | 19. June 2018
Nachrichten aus dem Bereich:
Allgemein
,
Wohnen
,
Finanzierung
,
Mensen & Cafeterien
,
Soziales
,
Kultur
,
Internationales
,
CampusKinderzimmer
/ vom Campus:
Magdeburg
,
Stendal
,
Wernigerode
,
Halberstadt
,
Friedensau