Mensa Wernigerode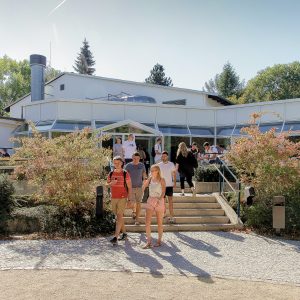 Friedrichstraße 57 – 59
38855 Wernigerode
[Location map & info Campus Wernigerode]
The canteen is located directly on the campus of the university. From the dining room, the guest has a beautiful view of the park and the Brockenbahn. The Café au lait in the canteen also offers an extensive breakfast menu. In addition, our coffee flap is open for you in the main building of the university.
For hygienic reasons, only contactless payment is possible. Therefore, no cash is accepted at the cash points. Please use the provided machines to recharge your chipcard.
Opening hours
During the lecture period
Dining room
currently closed
Café au lait Wernigerode
currently closed
Coffee flap main building
currently closed
Outside lecture time
Dining room

closed until 25.09.2020
Café au lait Wernigerode
closed until 25.09.2020
Coffee flap main building
closed
Diese Mensa hat aufgrund der aktuellen Pandemielage derzeit geschlossen. / This canteen is currently closed due to the current pandemic situation.