Ceramic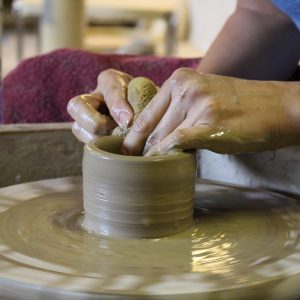 In this creative workshop, individual vessels are produced in various construction techniques. Here you will learn the art of turning on the potter's wheel. Under the guidance of the Magdeburg dipl.-restorer Kathrin Bunzenthal, the ceramic objects can be decorated with scraffitto, embossing and engraving techniques or with glazes.
All materials are provided
Ladder
Kathrin Bunzenthal, Dipl.-Restorer
Place
Dorm 3, J.-G.-Nathusius-Ring 2, basement, Creative CircleCenter, side entrance
Dates

1st course date Tuesday course on October 15, 2019 at 6:30 pm

1st course date Thursday course on October 17, 2019 at 6:30 pm

then on Tuesdays or Thursdays from 18:30 – 20:30

due to the high demand, 2 courses are offered. Tuesdays or Thursdays. Only one course per person can be selected

Fee
€18.00; payable when registering with a valid student ID
Participants
maximum of 10 people per group
Registration
Registration from 1 October 2019 from 11:00 a.m. and by no later than
10 October 2019 here directly online as well as at the infopoints Mensa Herrenkrug and Mensa UniCampus during opening hours.