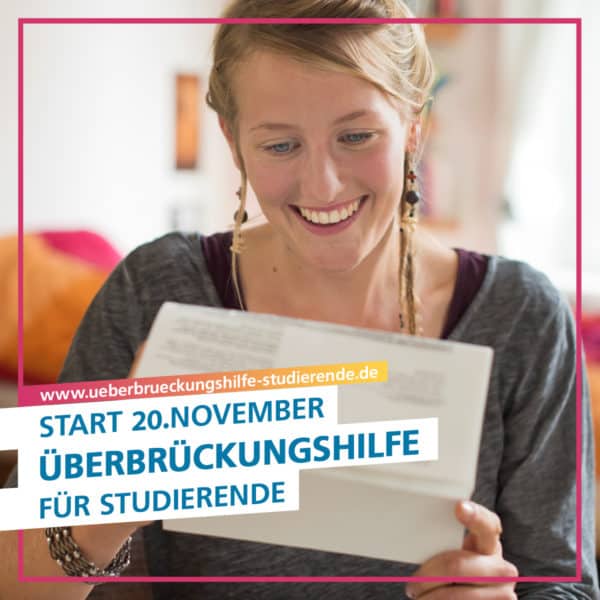 (English version below)
Aufgrund der aktuellen Entwicklungen in der Corona-Pandemie setzt das Bundesministerium für Bildung und Forschung (BMBF) die Überbrückungshilfe für Studierende in pandemiebedingter Notlage für den November und darüber hinaus bis zum Ende des Wintersemesters ab sofort wieder ein.
Dazu erklärt Bundesbildungsministerin Anja Karliczek:
"Wir lassen die Studierenden in dieser Pandemie nicht allein. Wir werden die bereits aus dem Sommer bekannten Zuschüsse als Teil der Überbrückungshilfe für Studierende in pandemiebedingter Notlage erneut anbieten – und das bis zum Ende des Wintersemesters. (…) Ich danke dem Deutschen Studentenwerk und den Studierenden- bzw. Studentenwerken, dass sie wieder die Umsetzung übernehmen."
Antragsberechtigt sind Studierende, die zum Zeitpunkt der Antragstellung an einer staatlichen oder staatlich anerkannten Hochschule in Deutschland immatrikuliert, in Deutschland wohnen und nicht beurlaubt waren. Dies gilt für Studierende aus dem In- und Ausland, ohne Altersbegrenzung.
Der Zuschuss wird monatlich gezahlt, bis zu einer Höhe von 500 Euro. Zuständig für die Antragsbearbeitung sind die 57 regionalen Studierenden- und Studentenwerke, wobei die Anträge ausschließlich online über die etablierte bundesweit einheitliche IT-Plattform gestellt werden. Eine Beantragung ist ab sofort möglich.
 
Alle wichtigen Fragen beantwortet die FAQ des BMBF zu den Überbrückungshilfen:
https://www.bmbf.de/de/wissenswertes-zur-ueberbrueckungshilfe-fuer-studierende-11509.html
Für weitere Fragen gibt es die BMBF-Hotline zur Überbrückungshilfe:
Telefon: 0800 26 23 003
(Servicezeiten der Hotline: Dienstag, Mittwoch und Donnerstag von 8:00 bis 16:00 Uhr, Freitag von 8:00 bis 12:00 Uhr)
– – – – – – – – – –
Due to the current developments in the corona pandemic, the Federal Ministry of Education and Research (BMBF) is using the bridging aid for students in pandemic emergencies for November and beyond until the end of the winter semester with immediate effect.
Federal Education Minister Anja Karliczek explains:
"We're not leaving the students alone in this pandemic. We will be offering the grants we already knew from the summer as part of the bridging aid for students in pandemic emergencies – until the end of the winter semester. (…) I would like to thank the Deutsches Studentenwerk and the Studierenden- and Studentenwerken for taking over the implementation again."
Eligible to apply are students who at the time of submitting the application are enrolled at a state or state-recognized university in Germany, who are living in Germany and who were not on leave. This applies to students from Germany and abroad, with no age limit.
The grant is paid monthly, up to an amount of 500 euros. The 57 regional Studentenwerke are responsible for processing applications, whereby the applications are submitted exclusively online via the established nationwide uniform IT platform. An application is now possible.
The FAQ of the BMBF on bridging aids answers all important questions:
https://www.bmbf.de/de/wissenswertes-zur-ueberbrueckungshilfe-fuer-studierende-11509.html
The BMBF hotline for bridging assistance is available for further questions:
Phone: 0800 26 23 003
(Service times of the hotline: Tuesday, Wednesday and Thursday from 8:00 a.m. to 4:00 p.m., Friday from 8:00 a.m. to 12:00 p.m.)