Student hall No. 1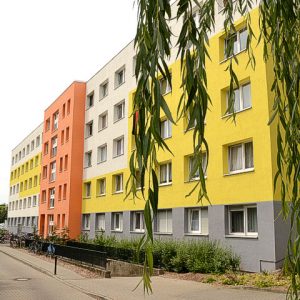 Hohepfortestraße 40
39106 Magdeburg
Contact details
Osterburg, Jenny 
Studentenwerk, room 343
Phone: +49 391 67-51550
Mail: vermietung2@studentenwerk-magdeburg.de
Office hours via phone: Mon, Tue, Thu + Fri 10 a.m. – 12 p.m.
and Tue 1 p.m. – 6 p.m.
Please note: currently are no personal consultation hours.
Bremert, Karsten
Studentenwerk, room 314
phone: +49 391-67-51577
mail: karsten.bremert@studentenwerk-magdeburg.de
Office Hours: Mon + Thu 1 p.m. – 2 p.m., Tue 2 p.m. – 6 p.m.
Please note: the caretakers are available by phone only during their office hours.
Outside of the office hours, you can contact the caretakers by email.
Please contact the accommodation tutors via mail or go to the IKT during the office ours:
Mon. 3 to 5 p.m. and Thu. 5 to 7 p.m.
Accommodation opportunities
Room facilities
all apartments furnished with kitchen and bathroom
Internet connection
cable TV connection
Special features
washing machines and tumble dryers in the basement
storeroom for bicycles, can be locked
lift
free parking places infront of the student hall
student council (Studierendenrat) with leisure facilities in the basement
Public transportation via bus or tram
tram No. 2, stop Pfälzer Str.
tram No. 5, stop Askanischer Platz