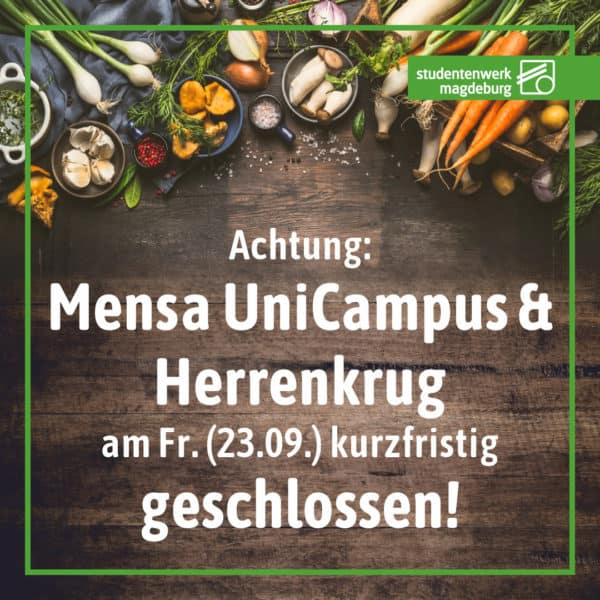 Liebe Studierende, Liebe Beschäftigte von OVGU und HS MD-SDL, am Freitag, 23. September 2022, müssen die Mensa Uni-Campus und die Mensa Herrenkrug kurzfristig aus betriebsbedingten Gründen geschlossen bleiben. Als "Notversorgung" empfehlen wir Euch:
-> Auf dem UniCampus erhaltet Ihr im PIER 16 ein kalt/warmes Snackangebot von 7:30 – 15:00 Uhr.
-> Auf dem Campus Herrenkrug wird es von 11:00 bis 13:30 Uhr direkt vor der Mensa einen Foodtruck von Saintburger geben, bei Vorlage des Studierendenausweises erhaltet Ihr einen Rabatt von 1,- € je Burger.
Wir bitten sehr um Euer Verständnis, ab Montag sind wir in allen Mensen wieder für Euch da!
Dear students, Dear employees of OVGU and HS MD-SDL, on Friday, 23 September 2022, the canteens Mensa Uni-Campus and the Mensa Herrenkrug have to be closed at short notice for operational reasons. As an "emergency supply" we recommend you:
-> On the UniCampus you can get a cold/warm snack offer from 7:30 – 15:00 at PIER 16.
-> On the Herrenkrug campus, there will be a Saintburger food truck directly in front of the canteen from 11:00 a.m. to 1:30 p.m. You will receive a discount of 1,- € per burger upon presentation of your student ID.
We ask for your understanding, as of Monday we will be there for you again in all refectories!