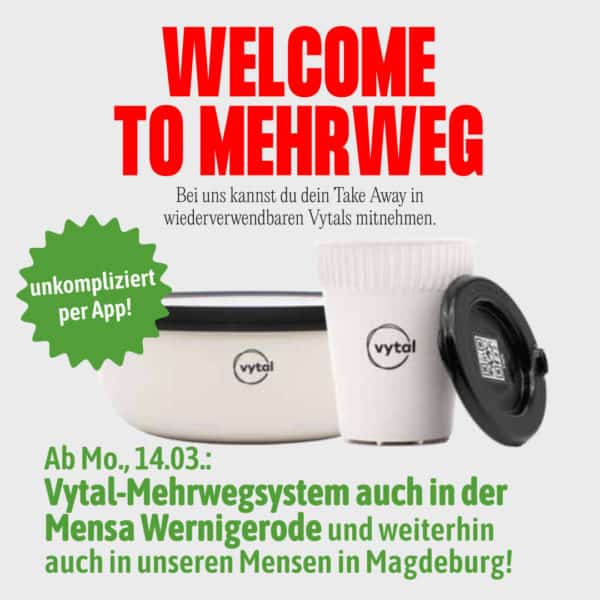 (English Version below) Pünktlich zum Start ins neue Semester an der Hochschule Harz starten auch unsere Mensen endlich wieder in den Vollbetrieb. Mensa und Café au lait Wernigerode öffnen wieder am Mo. (14.03.), die Mensa Halberstadt startet drei Tage später ab Do. (17.03.). An beiden Standorten gibt es ab 7:30 Uhr (bzw. 7:45 Uhr) ein umfangreiches Frühstückangebot und ab 11:00 Uhr lecker Mittagessen. (Zugangregel aktuell: 3G + FFP2-Maske).
Wenn am Montag unsere Mensa Wernigerode wieder öffnet, hält auch unser neues Mehrwegsystem von "Vytal" Einzug! Wie bereits in unseren Magdeburger Mensen ist auch in Wernigerode endlich Schluss mit dem Verpackungswahnsinn. Ladet Euch einfach die kostenlose Vytal-App im App-Store oder Google-Play-Store runter und nutzt ab sofort die warmhaltenden und mikrowellengeeigneten Mehrwegschalen.
Just in time for the start of the new semester at the Hochschule Harz, our canteens are finally starting again. "Mensa & Café au lait Wernigerode" open again on Monday (March 14th), the "Mensa Halberstadt" opens three days later on Thursday (March 17th). At both locations there is an extensive breakfast offer from 7:30 a.m. (or 7:45 a.m.) and delicious lunch from 11:00 a.m. (Access rule currently: 3G + FFP2 mask).
When our canteen "Mensa Wernigerode" opens again, our new reusable system from "Vytal" will also start :-)! As in our Magdeburg canteens, the packaging madness has finally come to an end in Wernigerode. Simply download the free Vytal app from the App Store or Google Play Store and start using the microwaveable reusable bowls immediately.