Welcome to the Studentenwerk Magdeburg…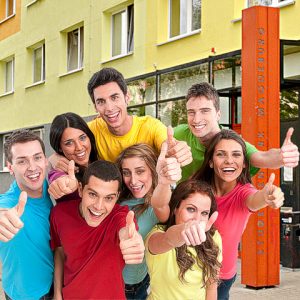 … Your partner in everything all around studies! We will guide you through life on campus at the study sites of Magdeburg, Stendal, Wernigerode and Halberstadt.
Whether it is dining in our canteens and cafeterias, a home in our student halls, advice & forms for financing your studies, help with stress and problems, promotion of student cultural projects or taking care of your children – we are glad to be at the disposal of all students and staff members!
Latest News in German:
Magdeburg: Am 18.04.2019 ändern sich unsere Sprechzeiten in der Sozialberatung am Standort Magdeburg. Sie können morgen zwischen 14:30 Uhr und 15:30 Uhr im Wohnheim 7, Raum 53 ohne Termin vorbeikommen. In der kommenden Woche finden die Sprechzeiten wie gewohnt statt.
Soziales | 17. April 2019
Magdeburg: FR, 12. April / 18.00 Uhr im Campustheater Magdeburg  Eintritt Frei Das ist unser Land! / Chez nous  >>Trailer<< F/B 2017 / R: Lucas Belvaux / D: Emilie Dequenne, André Dussollier, Guillaume Gouix / FSK: o. A. / 117 Min. … Continue reading
Kultur | 11. April 2019
: Aktion zur Europa-Wahl von Hochschulrektorenkonferenz und Deutschem Studentenwerk Die Hochschulrektorenkonferenz (HRK) und das Deutsche Studentenwerk (DSW) rufen mit einer gemeinsamen Aktion die Studierenden auf, sich an der Wahl zum Europaparlament am 26. Mai 2019 zu beteiligen. Titel: "Grenzenlos studieren. Europa … Continue reading
Allgemein | 9. April 2019
Magdeburg: DO, 11. April / 19.00 Uhr im Campustheater Magdeburg Les enfants d'erasmus (Dt. F) … FILM & GESPRÄCH >>Trailer<< F/GR/IR/BL 2019 / R: Angeliki Aristomenopoulou, Andreas Apostolidis / FSK: o. A. / 70 Min. "Erasmus: Europa für alle?" blickt auf … Continue reading
Kultur | 9. April 2019
Halberstadt, Magdeburg, Stendal, Wernigerode: Vom 08.04. – 12.04.19 heißt es wieder in allen Mensen des Studentenwerks: Asian Spirit – Fern(k)östliche Spezialitätenwoche. Kulinarisch geht es, wie der Name "Asian" schon verrät, nach Fernost. Die Küche bietet eine unglaubliche Vielfalt an Produkten, Variationen und Geschmackserlebnissen. Wir … Continue reading
Mensen & Cafeterien | 7. April 2019
Nachrichten aus dem Bereich:
Allgemein
,
Wohnen
,
Finanzierung
,
Mensen & Cafeterien
,
Soziales
,
Kultur
,
Internationales
,
CampusKinderzimmer
/ vom Campus:
Magdeburg
,
Stendal
,
Wernigerode
,
Halberstadt
,
Friedensau