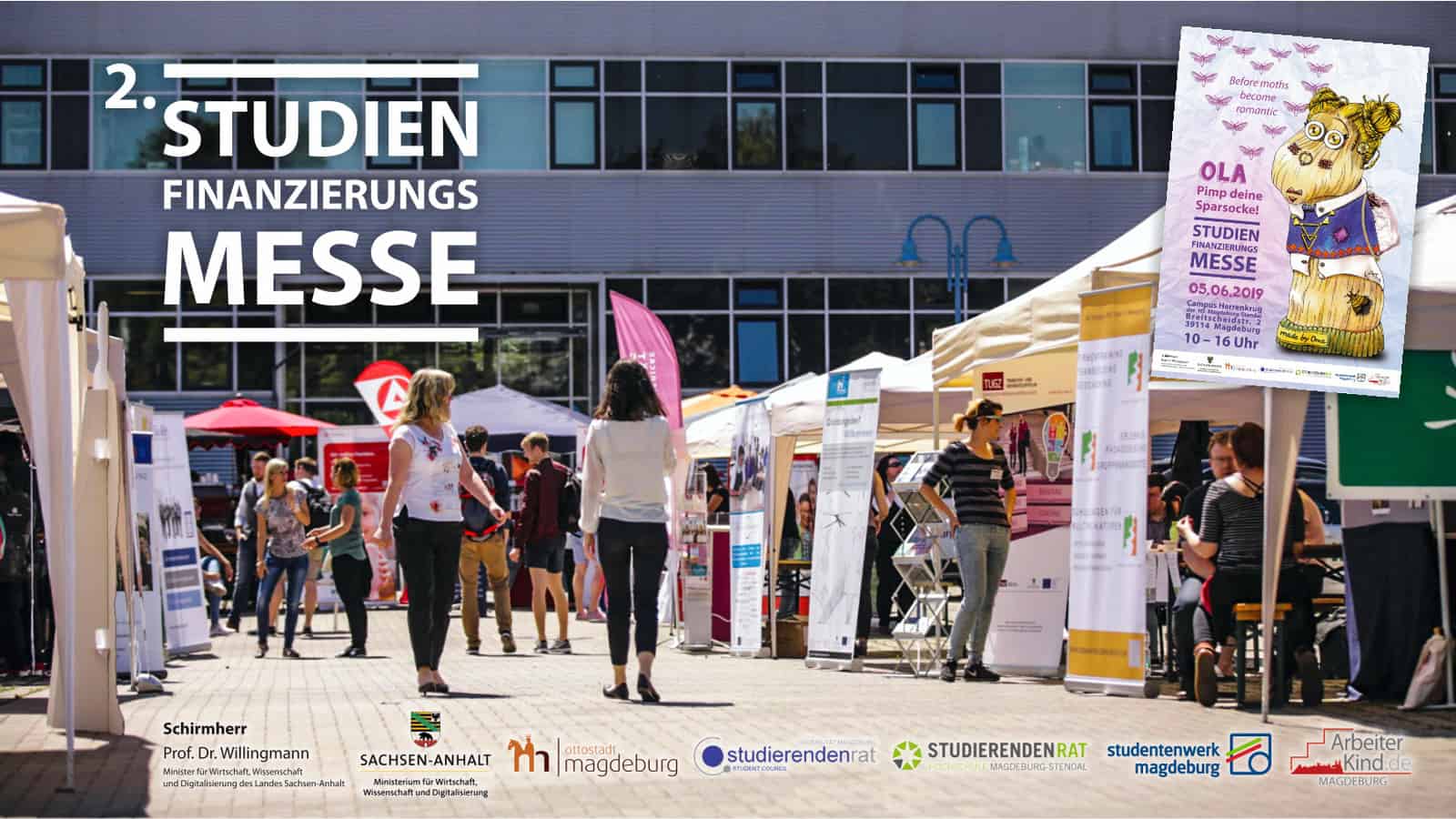 LÖCHER IM SPARstrumpf? NUTZE DEINE MÖGLICHKEITEN
Wir helfen dir beim Stopfen und dich im Kosmos der Studienfinanzierung zu Recht zu finden!
Rund um die grundlegenden Fragen zur Studienfinanzierung, haben wir ein interessantes Informationsangebot erstellt. Zum zweiten  Mal öffnet die Studienfinanzierungsmesse unter der Schirmherrschaft von Prof. Dr. Willingmann am 05.06.2019 in der Zeit von 10-16 Uhr ihre Tore. Die Messe findet auf dem  Gelände der Hochschule Magdeburg- Stendal auf dem Campus Herrenkrug statt und ist für sämtliche Teilnehmer kostenlos.
Du stehst noch ganz am Anfang deiner Studienwahl und fragst dich:
Was kostet ein Studium?
Wie finanziere ich mein Studium?
Wie funktioniert das mit dem BAföG?
Wo finde ich Unterstützung?
Oder du steckst schon mitten drin und das Leben nimmt eine neue Abbiegung, so dass du dich fragst:
Jobben neben dem Studium, wie kann das funktionieren?
What are scholarships and how to apply for?
Wie kriege ich mein weiteres Studium finanziert?
Studieren und ein Kind erziehen, wo finde ich Unterstützung?
Dann komm, besuche die Studienfinanzierungsmesse. Das Maskottchen in diesem Jahr ist die Sparsocke OLA, sie hilft dir, den Überblick im Wirrwar zu behalten und deine Möglichkeiten zu kombinieren.
An vielen Informationsständen können sich Studieninteressierte einerseits zu möglichen  Finanzierungsquellen, wie beispielsweise BAföG, Stipendien aber auch zum Thema "Jobben  und Studium" informieren. Anderseits werden auch die Ausgaben, welche auf sie zukommen,  näher beleuchtet. So informieren u.a. Wohnungsunternehmen zu  preisgünstigen  Wohnungsmöglichkeiten sowie die Hochschulen zu  Semesterbeiträgen und Auslandssemestern. Ziel ist es, Studierenden und  Studieninteressierten, wenn möglich, den finanziellen Druck zu nehmen und sie dabei zu  unterstützen, erfolgreich ein Studium aufzunehmen und zu beenden.
Diese Messe ist ein Projekt der Studierendenräte der Otto-von-Guericke-Universität  Magdeburg und der Hochschule Magdeburg-Stendal, in Kooperation mit ArbeiterKind.de  Magdeburg und dem Studentenwerk Magdeburg.
Am Infopoint der Messe erhalten Schülerinnen und Schülern einen Nachweis zur Vorlage in der Schule, wenn sie die Messe besuchen und am Quiz teilnehmen.
Klick hier für das Ausstellerverzeichnis der Studienfinanzierungsmesse 2019

Ausstellerverzeichnis Studienfinanzierungsmesse 2019
(81.6 KiB)
Ausstellerverzeichnis Studienfinanzierungsmesse 2019, Stand: 3. June 2019