(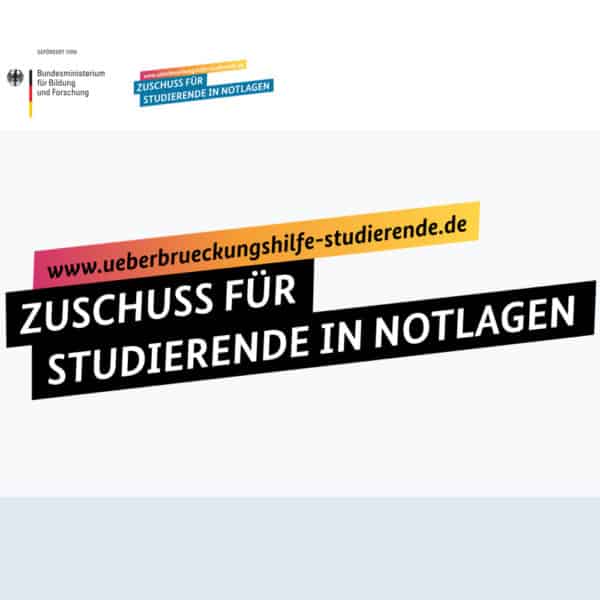 For English version see below)
Corona-Pandemie: Überbrückungshilfe für Studierende in Notlage
Das Bundesministerium für Bildung und Forschung (BMBF) hilft Studierenden, die wegen der Corona-Pandemie nachweislich in akuter Notlage sind, mit insgesamt 100 Millionen Euro Zuschüssen. Sie werden über die Studenten- und Studierendenwerke vergeben.
Der Online-Antrag kann unter
www.ueberbrueckungshilfe-studierende.de
gestellt werden.
Achtung: Die Überbrückungshilfe kann ab 16. Juni 2020, 12 Uhr mittags, online beantragt werden. Aus technischen Gründen können wir die Anträge aber erst ab 25. Juni 2020 bearbeiten, prüfen, und Auszahlungen veranlassen. Bitte haben Sie Verständnis und sehen Sie bis dann von Nachfragen ab bei uns ab, danke!
Die wichtigsten Fragen zur Überbrückungshilfe: FAQs für Studierende
Antragsberechtigt sind Studierende aus dem In- und aus dem Ausland, die an staatlichen und staatlich anerkannten Hochschulen in Deutschland immatrikuliert sind. Die Anzahl der Semester oder das Alter sind keine Ausschlussgründe. Entscheidend ist die nachgewiesene, akute pandemiebedingte Notlage. Nicht antragsberechtigt sind Studierende an Verwaltungsfachhochschulen oder Bundeswehrhochschulen, Studierende im berufsbegleitenden Studium bzw. dualen Studium, Gasthörer/innen sowie Studierende an staatlich nicht anerkannten Hochschulen.
Über das Portal werden die Anträge der Studierenden automatisch an das für sie zuständige Studenten- oder Studierendenwerk weitergeleitet. Die Anträge werden ab dem 25. Juni 2020 von den 57 im DSW organisierten Studenten- und Studierendenwerke bearbeitet und ausgezahlt.
Je nach nachgewiesener Bedürftigkeit können zwischen 100 Euro und 500 Euro als nicht rückzahlbarer Zuschuss gezahlt werden. Die Überbrückungshilfe kann jeweils für die Monate Juni, Juli und August 2020 beantragt werden. Entscheidend ist der Kontostand vom Vortag der Antragsstellung. Wer beispielsweise noch 200 Euro auf dem Konto hat, kann für den Monat der Antragsstellung 300 Euro Überbrückungshilfe erhalten.
Dazu erklärt Bundesbildungsministerin Anja Karliczek:
"Die Corona-Pandemie hat in Deutschland die gesamte Gesellschaft erfasst. Ziel der Bundesregierung ist es, Härten für die Menschen in Deutschland abzufedern und so gut wie möglich durch diese schwere globale Krise durchzukommen. Dies gilt auch für Studierende.
Mir ist bewusst: viele Studierende haben ihre Jobs verloren, bei vielen ist die Unterstützung durch ihre Familie weggebrochen. Deshalb habe ich von Beginn der Pandemie an umfangreiche Maßnahmen ergriffen, um Härten für Studierende abzufedern. Wir haben ein Paket geschnürt, das neben Anpassungen des BAföG eine Überbrückungshilfe mit zwei Sicherungsnetzen umfasst. Das ist ein umfassendes Paket, das der aktuellen Ausnahmesituation entspricht.
Im BAföG habe ich bereits im März per Erlass klarstellen lassen, dass BAföG-Geförderte keine Nachteile erleiden sollen, wenn zum Beispiel Lehrangebote oder Prüfungen wegen der Corona-Pandemie nicht stattfinden können. Verdienen die Eltern pandemiebedingt weniger, kann ein Aktualisierungsantrag für den laufenden BAföG-Bewilligungszeitraum gestellt werden. Die Anrechnungsregeln im BAföG haben wir angepasst: Wer in der aktuellen Krise in systemrelevanten Branchen unsere Gesellschaft unterstützt, behält damit seine volle BAföG-Förderung.
Nun spannen wir das zweite Sicherungsnetz der Überbrückungshilfe auf. Mit einem nicht rückzahlbaren Zuschuss unterstützen wir nachweislich besonders bedürftige Studierende in pandemiebedingt akuter Notlage. Anträge können ab diesem Dienstag online gestellt werden. Das BMBF hat dafür 100 Millionen Euro bereitgestellt. Der Zuschuss kann bis zu einer Höhe von jeweils bis zu 500 Euro in den Monaten Juni, Juli und August 2020 online beantragt werden. Alle Studierenden an staatlichen und staatlich anerkannten Hochschulen sind antragsberechtigt, aus dem In- wie Ausland, unabhängig von Alter oder Semesterzahl."
BMBF-Hotline zur Überbrückungshilfe: Telefon: 0800 26 23 003, E-Mail: ueberbrueckungshilfe-studierende@bmbf.bund.de
Short English Version:
Corona pandemic: bridging aid for students in financial emergency situations
The Federal Ministryof Education and Research (BMBF) is helping students who are demonstrably in a financial or economic emergency situation owing to the corona pandemic with allowances totalling 100 million euros. They are paid out via the student service organisations – the Studierenden- or Studentenwerk (STW).
Online application here: www.ueberbrueckungshilfe-studierende.de
Note: You can apply for bridging aid online as of 16th of June 2020 on, from 12 a.m. onwards. However, for technical reasons, we will only be able to process and assess the applications and initiate payments after the 25th of June 2020.
Please help us to quickly process all applications by refraining from inquiries at the student service organisations. Thank you!
The most important questions about bridging aid: FAQs for students/english version
BMBF Bridging Aid Hotline: Tel.: 0800 26 23 003, Email: ueberbrueckungshilfe-studierende@bmbf.bund.de