Appointment reservation for corona vaccination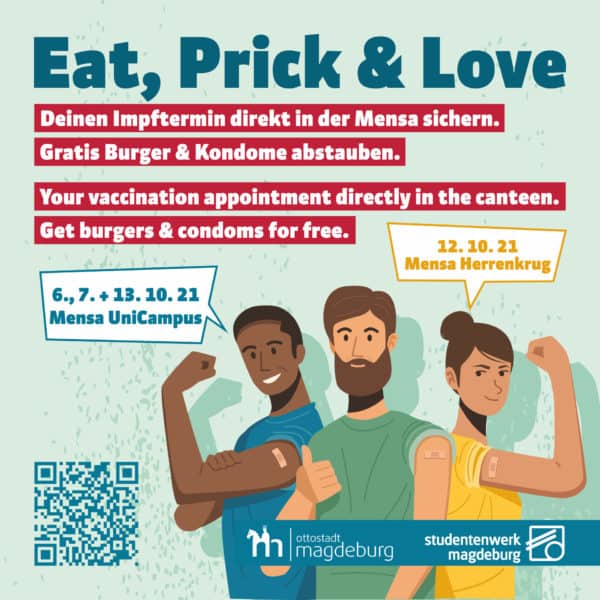 Second vaccination: Thursday, November 11th, 2021
From October 6 to 13, 2021, the Studentenwerk Magdeburg carried out an open vaccination campaign against the SARS-CoV-2 coronavirus directly in the UniCampus cafeteria and the Herrenkrug cafeteria in cooperation with the state capital Magdeburg.
The second vaccination for all participants in the campaign will take place on 11.11.21 between 8:00 a.m. and 4:00 p.m. exclusively in the UniCampus cafeteria.
The mobile vaccination campaign is carried out with an mRNA vaccine from the manufacturers Biontech or Moderna by the vaccination center of the state capital Magdeburg. The vaccination team will advise you on site in an informative discussion. Interested parties must bring their identity card or ID card as well as some time. A vaccination certificate and a health insurance card can also be brought with you, but they are not absolutely necessary. The offer, which is primarily aimed at students and university members, is also open to all other adults.
After the first vaccination there is a free burger (optionally vegetarian) in the cafeteria for refreshment, after the second vaccination a pack of condoms to get closer. With this, the motto "Eat, Prick & Love" of the vaccination campaign is implemented with a twinkle in the eye.
You can reserve an appointment using the following form: